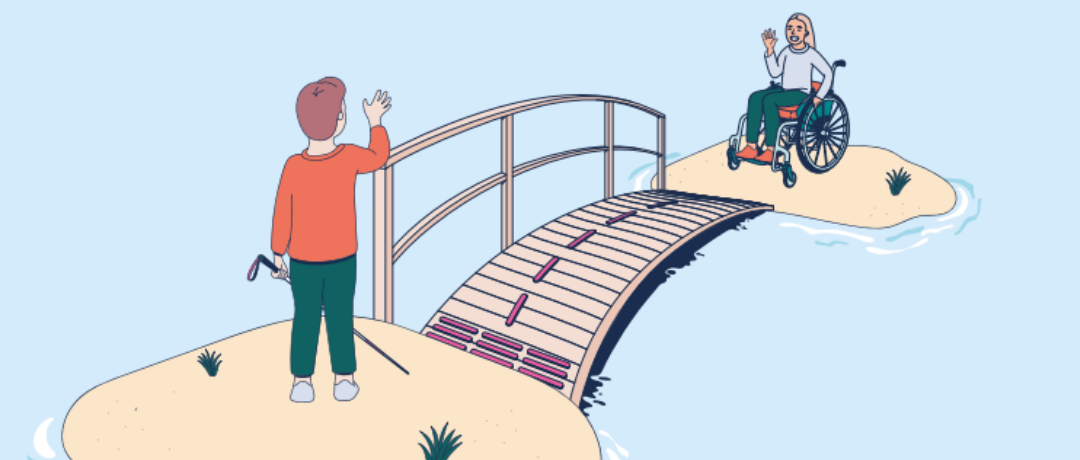 Universal design can create a sense of community. No man is an island, according to architect Camilla Ryhl.
Interview with Camilla Ryhl, Head of Research, the Bevica Foundation
She is head of research and development at the Bevica Foundation in Denmark, and author of the book Inkluderende Arkitektur (Inclusive Architecture).
One single solution cannot – and need not – accommodate everything. We need a variety of solutions that combined include everyone and provide freedom of choice, writes Camilla Ryhl in her book from 2017, written in collaboration with her professional sparring partner and Senior Research Scientist at SINTEF in Norway, Karin Høyland.
The idea of the book is to inspire a dialogue about different aspects of universal design in society. "The concept of universal design is often interpreted as equal to building regulations, focussing on technical and prescriptive requi- 55 rements. However, meeting the basic legislative TOPICS requirements for a building is not enough when it comes to securing an inclusive architecture for everyone regardless of abilities. We need to raise the bar and universal design should be at the heart of everything we do," says Ryhl. She wants to highlight the sensory qualities of architecture, in terms of experiences and participation, and the understanding of architecture as being about the interrelation of body and space.
VISUAL SILENCE
Her research focuses on the encounter between architecture and sensory impairment. Her PhD, Sansernes bolig (Housing for the Senses), made human senses part of the universal design discourse in architecture. It was no longer just about designing stepless entrances or allowing enough space for a wheelchair to turn. Now, the discourse included those who cannot see their own home, people who are born blind.
"What happens to architecture when you remove sight from the equation," she asks, adding that all architects are trained to build visual identity. By removing sight as a yardstick, you need to plan rooms and buildings differently. Tactility, balance, texture, materials and proportions. How a room is discovered, felt and heard. It takes practice to use one's senses, how something feels rather than looks, as a starting point for learning how architecture is experienced.
"It is not enough to get everyone into the room; you need to make sure everyone can stay in the room," Ryhl says. Universal design is not just about physical accessibility; it is about sight and hearing and all the hidden challenges that are not manifested physically. The human senses have been a factor in all her research since Ryhl finished her PhD at the Royal Danish Academy – Architecture in Copenhagen.
She has been a senior researcher at the Danish Building Research Institute at Aalborg University (now BUILD) and a professor in universal design at Bergen School of Architecture, and now heads the new Universal Design Hub at the Bevica Foundation. She wants to understand and describe the interaction between people and their physical environment.
NOISE EQUALS LIVELY?
"Acoustics are close to my heart," says Ryhl. 13 to 17 % of the population live with a hearing impairment, experiencing sounds as noise. A big group that is rarely taken into account when designing a building. Ryhl uses hearing as a parameter for accessibility, because at all times, our senses are working together.
How is sound experienced with two people in the room, or with 20 people? Sound is more often taken into account when creating workplaces for adults, less so for children. In a kindergarten or school you need a broader spectrum of sound adapted rooms. "How do we make sure that we create acoustic zones adapted to children's needs? Solutions should be in place, in fact it should be a matter of course," Ryhl says.
Another aspect to consider is that loud sound is often interpreted as positive, a sign that something is lively. To many, it is unbearable, but they choose to stay, even if they will be exhausted the next day or miss out on what is being said.
In schools and kindergartens, visual and nonvisual accessibility govern their entire social lives. Universal design of an institution for children affects the entire family: when they are invited to Christmas pageants or summer parties, when they deliver and pick children up. It frames the family's ability to participate in a child's life.
"We need to insist on understanding the full picture, not just categorise people as 'with' or 'without' functional impairment. Who are we really talking about if we insist on categorising? This affects us all," says Ryhl. She believes universal design is about all people, a notion that is not prioritised in architecture and needs to be further explored.
GLASS DOES NOT EQUAL TRANSPARENCY
"These days, in Denmark, we tend to build large schools with many open spaces. Often, glass is translated into openness," says Ryhl. She believes this is a result of the Scandinavian way of relating to openness, that everything should be visible.
"That means you will be constantly distracted! I never understood the need for so much glass. Glass should not be mistaken for transparency. Why does everyone have to be seen all the time," she asks rhetorically.
Transparency and openness in relation to participation should include feeling safe. "When you are eight years old, not too tall and perhaps a bit shy, it can feel intimidating to enter a large open space lacking overview." Ryhl thinks school planners and architects have become more aware of the different diagnoses that children have.
"If they are sensitive, restless or noisy, it may all just be two sides of the same coin. As it affects all of us, discussing sensory exposure is probably a better approach to quality in a building than designing a large, visually beautiful space."
What happens to the acoustics there? Some schools have more than 1000 students. According to Ryhl, we need more focus on sensory aspects when building schools and kindergartens. It should be a matter of course in line with stepless entrances to public buildings. We need more focus on the link between sensory stimulation and well-being, our emotional core, which is crucial to create good experiences.
UNDERSTANDING YOUR SURROUNDINGS
To categorise people as abled or disabled is neither constructive nor reflective of the reality of diversity. Ryhl asks instead: How can we discuss inclusion and exclusion without polarising? Universal design is all about architectural quality, and the wish to create good design is about all of us.
Ron Mace is the man behind the term 'universal design'. The American architect and educator coined the term in the 1980s. It grew out of frustration with stigmatising terms like 'barrier free' and 'accessibility', solutions targeting only people with functional impairment.
Mace wanted to introduce a design term and a design strategy repealing the idea of 'us' and 'them', and the categorisation of people 'with' or 'without' impairment. Universal design, according to Mace, is about making products and environments user-friendly for all, with no need for special adaptations.
THE NEW NORM
In 1997, the term was consolidated with the introduction of seven design principles, developed by Mace in collaboration with other experts. Universal design became a tool with an impact. Mace was himself a wheelchair user, who wanted to avoid special solutions exposing physical impairment and differences, in order to integrate and highlight what we all have in common.
"His personal, physical experience was crucial," says Ryhl. "In Norway, universal design has become a political strategy. I know a lot of effort has been made to inform and increase competence among public employees and experts. It takes a lot of knowledge to meet the demands, and more importantly, to surpass them. User participation is also crucial. Without it, universal design is reduced to a circle on a drawing, to indicate the turn radius of a wheelchair."
Camilla Ryhl explains that the reason why she wrote the book Inclusive Architecture, is that although physical requirements are important, you need insight and understanding to fully appreciate what universal design is all about.
"If you only focus on minimum standards, architecture cannot unleash its full potential. We have a professional responsibility to raise above minimum standards," Ryhl says.
A HOUSE FOR THE ENTIRE BODY
Architecture is the physical framework to our lives. As such, it needs more focus. Human bodies, in all their varieties, should be at the heart. Equality is not the same as everyone being the same. Universal design is design for diversity. Some bodies need aid. Some need light. Some need time. Some need calm. Sensory stimulation is also universal design.
"The focus of my Master's degree, which led to my PhD, was challenging," says Ryhl. Her professors and other architects kept forgetting that sight was not to be part of the experience of a room for the target group; people who were congenitally blind. In our consciousness, architecture is so closely linked to what we see.
"As architects, we spend a lot of time on site visits, observing. We hardly think about it, but to experience the room, we touch the walls. We close our eyes to feel the ambience. We carry out our field studies and observations with all our senses, but we only talk about what we see," Ryhl points out. The potential for a more physical and sensory approach to the connection between universal design and architecture is closer than you think. All you need is someone to highlight the possibilities and show you the way. And that is what Camilla Ryhl is doing.
The interview is originally published from page 54 in the publication Design for Diversity – Universal Design ub Schools and Kindergartens in Norway
Also see the KS catalogue of other publications on Universal Design on their webpage